---
Helping build great postcard collections is our speciality...
---
What We Do at CourthouseSquare.net
---
We Produce Antique Postcard and Paper Shows
Visit our show schedule page and contact us for vendor information.
We Produce Postcard News from CourthouseSquare, a Newsletter
Visit our Newsletter page, sign up or contact us. Send us your articles, interests, free classifieds, more.
We Sell Postcards and Supplies at Shows
Visit us at any of our shows, or any of the 30 or so other shows we attend each year, we sell supplies and our high quality show stock of postcards at special prices. Contact us regarding our upcoming shows or others we will be attending.
We sell net price postcards and supplies Online at our CourthouseSquare.net site
Feel free to purchase directly from us, we ship daily, and FedEx larger shipments. We are the EOM producer of postcard boxes, the standard of the industry, as well as special sizes, double-wides, bookshelf, and more. We sell most all sleeves and page styles, as well as many specialty supplies for the postcard and paper collector.
We sell at online Auctions eBay and Hipp
Our eBay and Hipp store and live auctions are available 24 hours a day, visit now, place some bids, enjoy the online experience. Seller id is ' jmt ' Click on the eBay link on these pages to visit our store. Visit Hipp and click on seller id ' jmt '
We offer mail approvals under special circumstances.
Occasionally we find special collections for special customers, and can send selections through the mail, or scan via the internet. We are on the road for shows to the extint that it is generally difficult for the old time 'mail order approval' business model to work, but occasionally, we are able to put great material in the hands of specialist advanced collectors. Feel free to send us your wantlists.
We accept PayPal for all goods and services.
See our payment page for our preferences. PayPal seems to be the best for all involved, but we know some have issues with this method of payment. We have experienced issues with about any for of payment at one time or another. Just let us know your needs if they aren't covered in our "How to Pay" page.
Call or email us anytime
Email us about your suggestions, needs or interests, we will contact you with more direct information.
1.417.389.1512 (text or phone), 1.888.451.0340 or 417.451.3463
EMAIL US TODAY!!!
or
postcards@courthousesquare.net
Your request is appreciated. Thanks for the opportunity.
Jim
Specializing in Sales, and Shows, of Antique Postcards, Archival Supplies, Historical Photographs and Paper Americana
35 Year Member American Philatelic Society,  
Member of the Board and 20 Year Member International Federation of Postcard Dealers, (2009-2014 President)
40 Year Member of Neosho Area Chamber of Commerce
Bank and Trade References Available Upon Request

UPS Address 2110 Dixieland Lane
Neosho MO 64850
____________________________
Join our free eNewsletter, Postcard News from Courthouse Square here:
web: http://list.courthousesquare.net/cgi-bin/lyris.pl?join=Postcards
email: join-Postcards@list.courthousesquare.net
____________________________
Click Here to Return to CourthouseSquare.net Home Page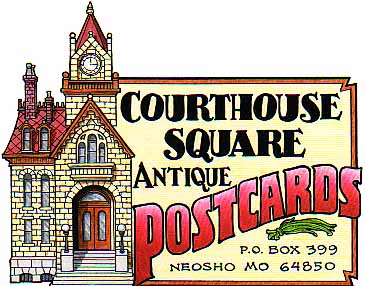 Courthouse Square Antique Postcards
Jim Taylor
P.O. BOX 399 -NEOSHO, MO - 64850
417.451.3463 - 888.451.0340
postcards@courthousesquare.net
We produce postcard and paper shows, sell postcards, reference materials and archival supplies.
Member

CourthouseSquare.net
NEW! Sign Up Now for our Free Online Newsletter
Postcard News From Courthouse Square
Click here.
OR Send a blank email to: join-Postcards@list.courthousesquare.net.
---
Browse our Current Online Auctions

Postcards@CourthouseSquare.net
©2000-2019, JMT Enterprises. REPRODUCTION OF THE CONTENTS OF THIS PAGE, IN PART OR WHOLE, IS EXPRESSLY PROHIBITED.
This site was created and launched by Jim Taylor. For information email me at jmtaylor@ipa.net