---
---
---
Jim Taylor and Courthouse Square Antique Cards
Presents
Spring 2017
Greater Chicago
Postcard and Paper Show

Spring 2017
Greater Chicago
Postcard and Paper Show
April 14,15, 2017
(Friday and Saturday )
Holiday Inn Chicago SW-Countryside Conference Center Ballroom
William Tell
6201 Joliet Road Countryside , Illinois 60525
Show Hours Friday 10-6 pm, Saturday 8AM-4 pm, Early Birds at 9:00 Friday
Show WILL open early(8am), and close at 4PM on Saturday

ADMISSION: $5.00 for both days regular admission (10am Friday, and 8am Saturday)
$10 Early Bird available for 9:00 on Friday
A wonderful selection of the best of postcards, photos, ephemera, paper, and cabinet cards and other vintage paper and photographic items.
Door Prizes Awarded Hourly
KEEP YOUR TICKET STUB
All admissions, will include a ticket stub with a number. We'll take half, you keep half. Each hour begining at 11:00AM, we will draw a number (our half) and post it on the Door Prize board near registration table. At your leisure, check the board to see if you are a winner of a $10 gift certificate, and if so, pick it up then, use it at the show. (redeemable only at this show). One door prize per ticket. We will add a winning ticket number each open hour of the show, both days.
--------------------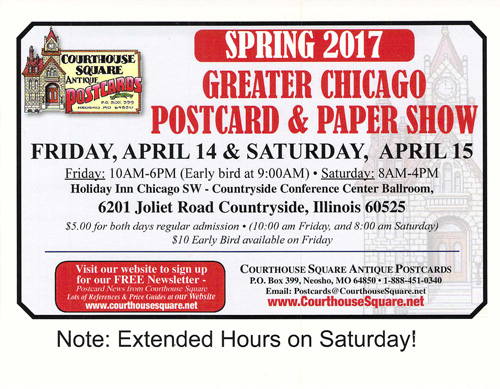 For additional collector and dealer information:
Jim Taylor, PO Box 399, Neosho MO 64850
Dealer List
( This Show has sold out of dealer space, Dealers contact us now for contracts for November 2017)
(Confirmed dealer list, we expect 27-28 dealers)
Dennis Goreham, UT
Colleen Vagnini, WI
Doug Wayne, CA
Jim Taylor, MO
Richard Roberts, CO
Susan Nicholson, IL
Judy Cresap, IL
Scott Polk, IN
Denny Peoples, IN
Doug Aikenhead, MI
Ron Clark, MO
Dennis Hart, MO
Mike Schulz, IL
Bill Poore, IL
Wally Jung, MI
Danny Frankel, NV
John Anderson, MN
Gordon Kirsten, WI
Jay Albert, NE
The Newberry Library, Curt Teich Postcard Archives Collection Representatives
Paul Ostile, IA
Dean and Carol Kamin, IL
Jim Mehrer, IL
Cherryland Auction, Alec Millard, M
Debbie Corkery, Barr's Postcard News
John Bigelow, LA
Bing McClellan, MI
Charles Doherty, IL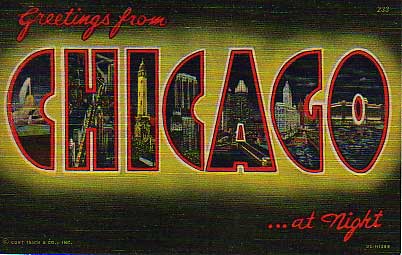 Chicago Weather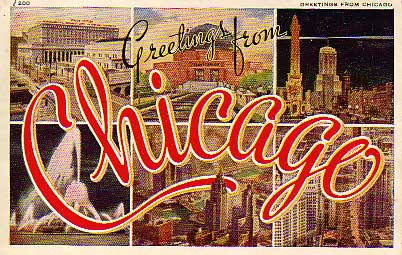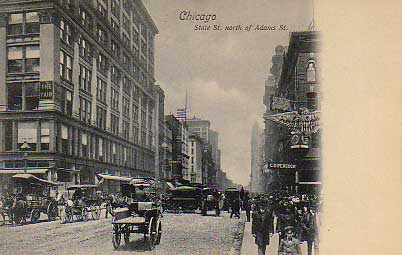 The Curt Teich Postcard Archives Collection, formerly located at the Lake County Discovery Museum, is now part of the Newberry Library collection in Chicago:
For Details click here.
_______________________________________________________________
Visit us on the web at
Click Here to Return to CourthouseSquare.net Home Page

Courthouse Square Antique Postcards

Jim Taylor

P.O. BOX 399 -NEOSHO, MO - 64850
417.451.3463 - 888.451.0340

postcards@courthousesquare.net

We produce postcard and paper shows, sell postcards, reference materials and archival supplies.

Member

CourthouseSquare.net

NEW! Sign Up Now for our Free Online Newsletter

Postcard News From Courthouse Square

Click here.

OR Send a blank email to: join-Postcards@list.courthousesquare.net.

---

Browse our Current Online Auctions

Postcards@CourthouseSquare.net

©2000-2017, JMT Enterprises. REPRODUCTION OF THE CONTENTS OF THIS PAGE, IN PART OR WHOLE, IS EXPRESSLY PROHIBITED.

This site was created and launched by Jim Taylor. For information email me at jmtaylor@ipa.net