Welcome to Courthouse Square.......
Postcard Collecting Information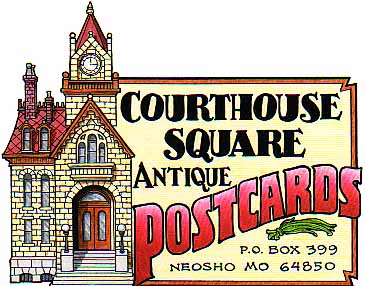 Helping build great postcard collections is our speciality...
---
NEW! Sign Up Now for our Free Newsletter
Postcard News From Courthouse Square
Click here.
OR Send a blank email to: join-Postcards@list.courthousesquare.net.
---
The CourthouseSquare.net
Pretty Good Postcard Identifier©JMT
Here is some general "Pretty Good" information regarding postcards. Let us know if you have any suggestions for this page, or if it was helpful. Visit our other pages for more postcard stuff...Jim Taylor
Definitions:
'REAL PHOTO" image is photograph process front, w/postcard back, photo not printed. Use of a magnifying glass will show "dots" in image of printed images, won't show 'dots" in photographs
Postcard Eras..."Pretty Accurate"
Pioneer Era 1893-1897
Private Mailing Card (PMC) Era 1893-1901
Post Card (undivided Back) 1901-1907
Post Card Divided Back 1907-1914
White Border Era 1915-1930
Linen Era 1930-1944
Chrome Era or Modern 1945-Now
Golden Age of Postcards 1898-1916
--and Sizes...
"Regular" 5 1/2 x 3 1/2
"Continental" 4 1/4 x 6
"Modern" 4 3/4 x 6 1/4
--And Postcard Dating......(...also "Pretty Accurate"
Real Photo Stamp Box Dating (more or less)
Paper Dates Desc
AGFA ANSCO 1930-1940
ANSCO 1940-1960 TWO STARS AT TOP AND BOTTON
ARGO 1905-1920
ARTURA 1910-1924
AZO SQUARE 1927-1940S SQUARES IN CORNERS
AZO TRI 1 1904-1918 FOUR TRIANGLES POINTED UP
AZO TRI 2 1918-1930 TRIANGLES 2-UP, 2-DOWN
AZO 1907-1909 Diamonds in Corners
AZO 1922-1926 Empty Corners
CYKO 1904-1920S
DEFENDER 1 1910-1920 DIAMOND ABOVE AND BELOW
DEFENDER 2 1920-1940 DIAMOND INSIDE
Devolite Peerless 1950-
DOPS 1925-1942
EKC 1939-1950
EKKP 1904-1950
EKO 1942-1970
KODAK 1950-NOW
KRUXO 1907-1920S
KRUXO 1910-1920's Xs in corners
NOKO 1907-1920S
PMO 1907-1915
SAILBOAT 1905-1908 Sailboat in circle
SOLIO 1903-1920's Diamonds in corners
VELOX 1901-1914 Squares in Corners
VELOX 1907-1914 Diamonds in corners
VELOX 1909-1914 Triangles 4 pointed up
VITAVA 1925-1934
(above dates and descriptions are approx. and subject to correction, change and interpretation, and meant to be a guide to help in approximate dating of real photo postcards...got a different opinion? email us, we may put it on here.)
Curt Teich Dating (courtesy of the Curt Teich Archive)
year number followed by decade letter
A = 1930s
B = 1940s
C = 1950, 1B = 1941, 6C = 1956 and so on...
Click Here to Return to CourthouseSquare.net Home Page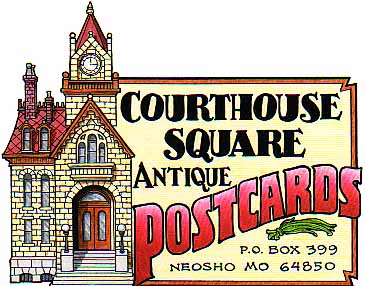 Courthouse Square Antique Postcards
Jim Taylor
P.O. BOX 399 -NEOSHO, MO - 64850
417.451.3463
Call or Text to: 417-389-1512
postcards@courthousesquare.net
We produce postcard and paper shows, sell postcards, reference materials and archival supplies.
Member

CourthouseSquare.net
NEW! Sign Up Now for our Free Online Newsletter
Postcard News From Courthouse Square
Click here.
OR Send a blank email to: join-Postcards@list.courthousesquare.net.
---
Browse our Current Online Auctions

Postcards@CourthouseSquare.net
©2000-2019, JMT Enterprises. REPRODUCTION OF THE CONTENTS OF THIS PAGE, IN PART OR WHOLE, IS EXPRESSLY PROHIBITED.
This site was created and launched by Jim Taylor. For information email me at jmtaylor@ipa.net