---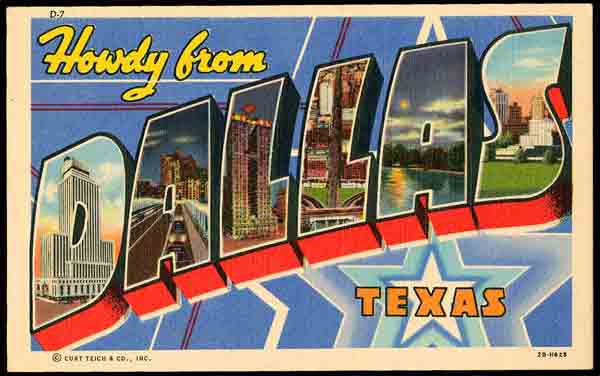 ---
---
Dont forget our Dallas Metro Postcard and Paper Show right before the Wichita International Show in October, 2019.
Jim Taylor and Courthouse Square Antique Cards
Presents
Fall 2020
Greater Dallas
Postcard and Paper Show
Oct 9-10, 2020

Comfort Inn and Suites Plano East
700 Central Parkway East, (Exit 29, East side of Expressway, on Expressway frontage road, just behind Denny's, King Chinese Buffet)
Hotel Reservations: 972.881.1881
Plano, TX 75074
Comfort Inn and Suites Great Ballroom!
Great hotel, near all the food and nearby shopping areas.
Lots to do. Light rail nearby, and airport shuttles available.
Show Hours Friday 10-6 pm, Sat 9-4 pm, Early Birds at 9:00 Friday
For additional collector and dealer information:
Jim Taylor, PO Box 399, Neosho MO 64850
Email: postcards@courthousesquare.net Call toll free: 1.888.451.0340
This show is being produced by Jim Taylor, and CourthouseSquare.net,
and is produced in the Spring and Fall, annually.
Dealers call or email for contracts.
Come To Dallas, follow us to Wichita
"On the Way to Wichita"
"Wichita Warm-Up"
Our Dates for the fall show, the weekend before Wichita week, make it a natural.
ADMISSION: $4.00 for both days regular admission (10 am Friday, and 9 am Saturday)
$6 Early Bird available for 9:00 on Friday and Saturday.
Great Vintage Postcards, Rare and Beautiful Original Turn of the Century Postcards, for sale in all price ranges!
We will also have archival postcard supplies, and reference volumes, for sale. Plus free Barr's Postcard News issues while supplies last. This show is held annually.
+++
Large crowds of enthusiastic collectors are anticipated when the Annual Fall Dallas Metro Antique Postcard & Paper Americana Show and Sale hits Plano, TX, Friday and Saturday, October 11 and 12. This is the 2019 Edition of the Dallas Metro Postcard Fall Show and Sale, produced by Jim Taylor and CourthouseSquare.net.

This annual postcard show is one of two Courthouse Square Antiques produces in the Dallas Metro each year. The Fall Dallas Metro show involves buyers and sellers from across the U.S. and nearly a million antique postcards, vintage paper Americana, ephemera and antique photography.  

We have added a number of western states dealers that have not been here before as well as several from the southeast," said Jim Taylor, show organizer and owner of Courthouse Square Antique Postcards. In addition to postcards, vintage paper sellers from around the country will be there with a wide selection of posters, movie and political memorabilia, Western Americana, military and Native American photos.

Vendors are bringing original historical photographs of Texas, Missouri, Illinois, Iowa, Kansas, Arkansas, Oklahoma, Civil War, Western American, Route 66, mining, sports, political, maps, Native Americans, rodeo, movie, railroadiana, Oklahoma and Indian Territory, Victorian era, Kewpies, 101 Ranch, Border War and thousands of other topical and state view postcards. Other historical paper memorabilia and ephemera are also for sale.

Available at the show are archival postcard supplies and reference volumes, plus free Barr's Postcard News issues while supplies last. Vendors buy collections and accumulations as well as give free appraisals of most all vintage postcards, old photographs, and paper ephemera as time allows.

"This show has grown since moving to the weekend before the Wichita, KS International Postcard Show. Many of our collectors and dealers travel long distances and this gives them a chance to attend two great shows, with a bit of driving on Interstate 35 between Dallas and Wichita," said Taylor. "This two-show period is a 'Woodstock' for postcard collectors. "It's about all anyone could want in the hobby and as much as you want to take time to look through."

Additional details vendor lists, and background available at www.courthousesquare.net/falldallasshows.htm


For more information contact Jim Taylor, 888.451.0340, jmtaylor@ipa.net
++++++++++
The top dealers and collectors of
Texas historical postcards and photographs are expected to attend.
Bring copy of this email or show us on your cell phone for $1 off any admission.
____________
~~~~~~~~~~~~~~~~~~~~~~~~~~~~~~~~~~~~~~~~
THIS SHOW SELLS OUT, contact us NOW for contract info, contact us soon also for 2020 contracts! 1.417.389.1512
____________________________________________________________
(Vendor space is sold out at this time, vendors contact us now for space for Chicago show as well as the February Tulsa, and Spring (March) shows in OKC, Plano, Houston)
++++++++++++++++++++++++
Come To Dallas Oct 9-10, 2020, follow us to Wichita
"On the Way to Wichita"
Our Dates for the fall show, the weekend before Wichita week, make it a natural.
Mark your calendar.
Dallas and Wichita in October!!
42nd Wichita International Postcard Club Show
Follows Dallas.
Wichita Show Dates: October 17-18, 2020
Join Us for Two Weekends of Postcards
with a week of motel trading in Wichita in between.
It doesn't get much better than this!
Wichita International Postcard and Paper Show begins with the Wichita Inn East pre-show begining on Monday after Dallas Show.
Come to Dallas, follow us to Wichita!,
Stay for the Wichita International Postcard and Paper Show just a few days later.
Visit us on the web at
Click Here to Return to CourthouseSquare.net Home Page

Courthouse Square Antique Postcards

Jim Taylor

P.O. BOX 399 -NEOSHO, MO - 64850
417.451.3463 - 888.451.0340

postcards@courthousesquare.net

We produce postcard and paper shows, sell postcards, reference materials and archival supplies.

Member

CourthouseSquare.net

NEW! Sign Up Now for our Free Online Newsletter

Postcard News From Courthouse Square

Click here.

OR Send a blank email to: join-Postcards@list.courthousesquare.net.

---

Browse our Current Online Auctions

Postcards@CourthouseSquare.net

©2000-2019, JMT Enterprises. REPRODUCTION OF THE CONTENTS OF THIS PAGE, IN PART OR WHOLE, IS EXPRESSLY PROHIBITED.

This site was created and launched by Jim Taylor. For information email me at jmtaylor@ipa.net