---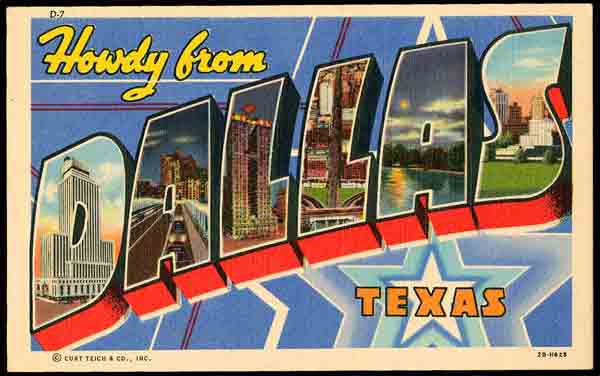 ---
---
Dont forget our Dallas Metro Postcard and Paper Show right before the Wichita International Show in October, 2012.
Lots of new details coming soon!!!
Jim Taylor and Courthouse Square Antique Cards
Presents
Fall 2012
Greater Dallas
Postcard and Paper Show
Oct 12, 13, 2012

Southfork Hotel
1600 N Central Expressway, (Exit 29, East side of Expressway)
Plano, TX 75074
Great hotel, good food and nearby shopping areas. Lots to do. Light rail nearby, and airport shuttles available.
Show Hours Friday 10-6 pm, Sat 10-4 pm, Early Birds at 9:00 each day
For additional collector and dealer information:
Jim Taylor, PO Box 399, Neosho MO 64850
Email: postcards@courthousesquare.net Call toll free: 1.888.451.0340
This show is being produced by Jim Taylor, and CourthouseSquare.net, and is produced in the Spring and Fall, annually. Dealers call or email for contracts.
Come To Dallas, follow us to Wichita
"On the Way to Wichita"
"Wichita Warm-Up"
Our New Dates for the fall show, the weekend before Wichita week, make it a natural.
ADMISSION: $3.00 for both days regular admission (10 am Friday, and 10 am Saturday)
$5 Early Bird available for 9:00 on Friday and Saturday.
Great Vintage Postcards, Rare and Beautiful Original Turn of the Century Postcards, for sale in all price ranges!
We will also have archival postcard supplies, and reference volumes, for sale. Plus free Barr's Postcard News issues while supplies last. This show is held annually. The top dealers and collectors of Texas historical postcards and photographs are expected to attend.
Bring copy of this email or show us on your cell phone for $1 off any admission.
A large educational exhibit of collector prepared show boards will be judged, with a $50 Gift certificate for the Best of Show. Any postcard collector attending is welcome to bring a board. Call 1.888.451.0340 for details.
A special thanks to the Dallas Postcard Club for their help in promoting and the production of this show, and especially Elaine Boots, Terry Christensen, Wally Chariton and George Cook. Thanks for all the help.
____________
~~~~~~~~~~~~~~~~~~~~~~~~~~~~~~~~~~~~~~~~
____________________________________________________________
Dealer List, Fall Show
More expected by showtime
Jim and Donna Dehne, TX
Tony Meager, AZ
Steve and Janet Schmale, CA
Kirk McKinzie, OK
Susan Nichols, TX
Norm Porter, TX
Lee Lanning, TX
Bruce Weekly, NC
Rick Holben, NM
Francis Hetzel, TX
Hal Lutsky, CA
Jim Taylor, MO
Ken Wilson, TX
David Crockett, TX
Coleen Vagnini, IL
Wally Charilton, TX
Terry Christensen, TX
George Cook, TX
Dennis Hart, MO
Bill Hemmer, TX
IFPD, Demaris Swint, TX
Ralph Bowman, CA
Ron From Holland
Barr's Postcard News, IA
Hal Ottaway, KS
CourthouseSquare Archival Supplies, MO
Lynette Beevers, TX
The Postcard Matters Magazine
Sally Nelson, IA
John and Suzie Bigelow, LA
Richard Laster, TX
++++++++++++++++
Come To Dallas Oct 12, 13, follow us to Wichita
"On the Way to Wichita"
"Wichita Warm-Up"
Our Dates for the fall show, the weekend before Wichita week, make it a natural.
It was a top show in 2011, and we expect it to be even better this fall. Mark your calendar.
Dallas and Wichita in October!!
35th Wichita International Postcard Club Show Follows Dallas. Join Us for Two Weekends of Postcards with a week of motel trading in Wichita in between. It doesn't get much better than this!
Wichita International Postcard and Paper Show begins with the Wichita Inn East pre-show begining on Monday after Dallas Show. Come to Dallas, follow us to Wichita!, Stay for the Wichita International Postcard and Paper Show just a few days later.

Visit us on the web at
Click Here to Return to CourthouseSquare.net Home Page

Courthouse Square Antique Postcards

Jim Taylor

P.O. BOX 399 -NEOSHO, MO - 64850
417.451.3463 - 888.451.0340

postcards@courthousesquare.net

We produce postcard and paper shows, sell postcards, reference materials and archival supplies.

Member

CourthouseSquare.net

NEW! Sign Up Now for our Free Online Newsletter

Postcard News From Courthouse Square

Click here.

OR Send a blank email to: join-Postcards@list.courthousesquare.net.

---

Browse our Current Online Auctions

Postcards@CourthouseSquare.net

©2000-2012, JMT Enterprises. REPRODUCTION OF THE CONTENTS OF THIS PAGE, IN PART OR WHOLE, IS EXPRESSLY PROHIBITED.

This site was created and launched by Jim Taylor. For information email me at jmtaylor@ipa.net